Welcome to UMBC HvZ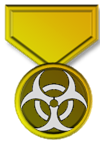 ~Check out our Facebook Player Forum here~
~Check out our Discord server here~
~To submit mission feedback, click here~
As a result of the COVID-19 outbreak, UMBC student organization activities have been restricted to virtual-only for the time being. We will not be holding any in-person events until this changes. For more information about our virtual events, check out our discord server here. For more information about what UMBC is doing in response to the COVID-19 outbreak, visit this page.

Open Officer Meeting Info:
Held online via our Discord, keep an eye out for more details in the club emails.

Premise:
Humans vs. Zombies is a recreational game that combines elements of Nerf wars, manhunt, tag, and capture the flag with unique mechanics. Humans must complete a wide variety of objectives while fending off zombies - who are constantly trying to infect the humans, and thus add to the horde. For a more complete description of the rules, visit our rules page.