Welcome to UMBC HvZ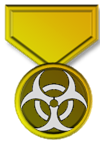 ~We have an official Facebook Player Forum here~
~We have an official Discord server here~
~To submit mission feedback, click here~
Mission Info:
Mondays - 7:00 pm - Sherman 003
Thursdays - 7:00 pm - Meyerhoff 030
Check the sidebar for this week's planned missions

As a result of the COVID-19 outbreak, UMBC Campus is closed, and as a student organization at UMBC, we are also closed. We will not be holding any events until UMBC reopens. For more information about what UMBC is doing in response to the COVID-19 outbreak, visit this page.

Open Officer Meeting Info:
Every Sunday (while spring & fall classes are in session) at 1:00 pm - Fine Arts 006

Premise:
Humans vs. Zombies is a recreational game that combines elements of Nerf wars, manhunt, tag, and capture the flag with unique mechanics. Humans must complete a wide variety of objectives while fending off zombies - who are constantly trying to infect the humans, and thus add to the horde. For a more complete description of the rules, visit our rules page.